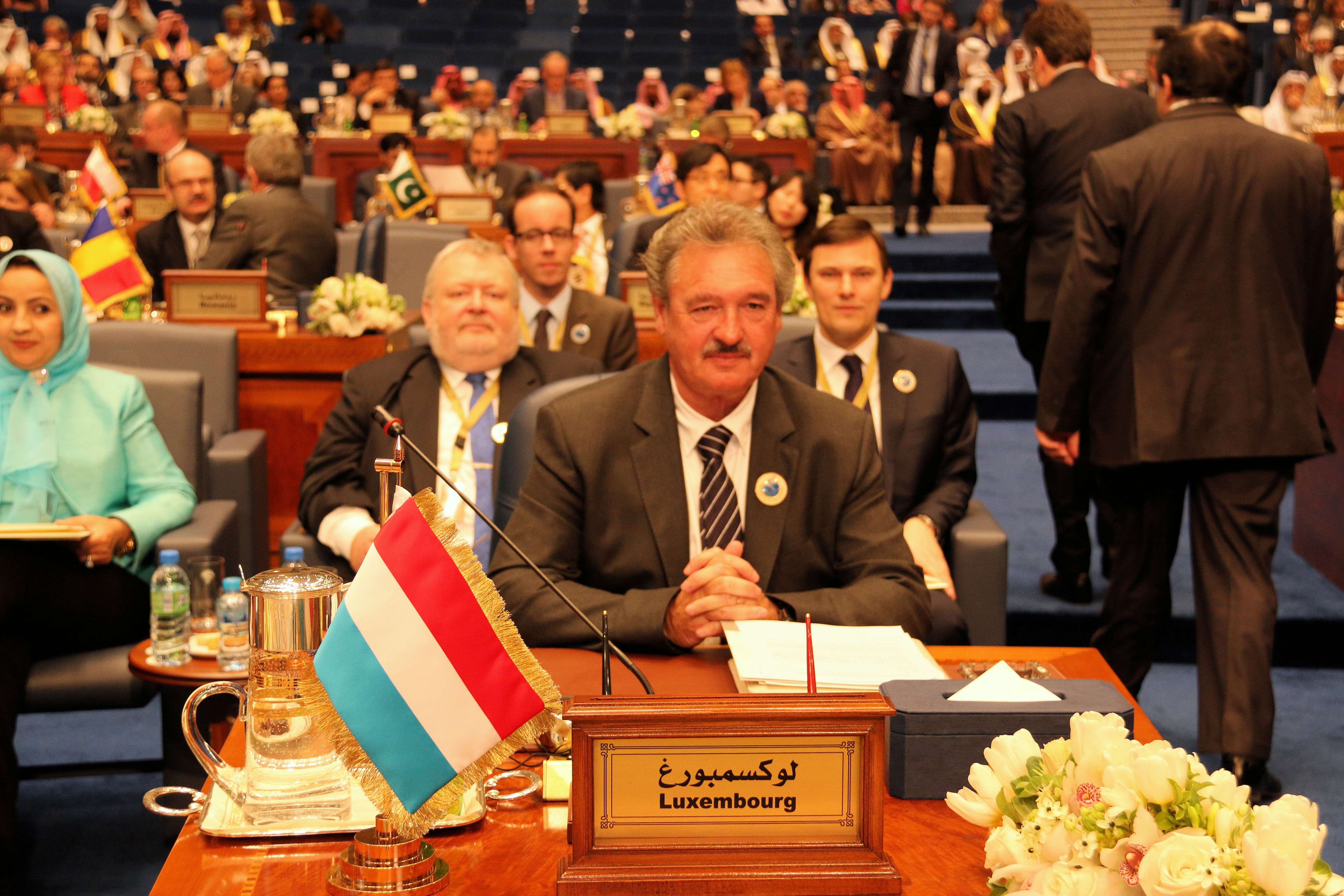 Mr. Secretary-General,
Excellencies,
Ladies and Gentlemen,
I want to thank His Highness the Emir and the government of the State of Kuwait for the organization of this Second International Humanitarian Pledging Conference for Syria Conference. I sincerely hope that during the third Conference we will be able to focus on about reconstruction measures in Syria.
We heard from Valerie Amos and António Guterres how utterly catastrophic the humanitarian situation in Syria has become: 9,3 million people are in need of humanitarian assistance, 6,5 million are internally displaced, more than 2,2 million are refugees, hundreds of thousands are trapped in besieged cities, towns and villages across Syria… The list goes on and on. An unusually harsh winter is further exacerbating the plight of the vulnerable populations, in particular women and children.
In fact the international community is confronted with the most important refugee crisis since WW II.
This situation can't continue. The conflict in Syria has to be brought to an end.
As we all know too well: the solution to the crisis is not a humanitarian one, it is political and I very much hope that the Geneva Conference on Syria, which is to be held in a week's time, will allow us to finally move towards a political transition that meets the legitimate aspirations of the Syrian people and an end to all violence in Syria.
However, while a political solution is sought, efforts must continue to protect civilians and deliver aid.
We must uphold the pressure on the parties to the conflict to respect human rights and international humanitarian law, to desist from indiscriminate attacks, and attacks against civilians and civilian objects, such as medical facilities and schools, to provide immediate, safe and unhindered humanitarian access to all those in need, including across conflict lines and across borders, to guarantee medical access and to protect civilians, medical staff and medical facilities.
Efforts to implement these demands and others reflected in the Presidential statement that was adopted by the Security Council on 2nd October 2013, following the initiative of Australia and Luxembourg, have to be pursued and further strengthened in particular through the High Level group on Humanitarian Challenges.
Damascus has not yet made the strategic decision to cooperate with humanitarian agencies of the United Nations in the same way that the regime had made a strategic decision to cooperate with the UN and the OPCW to eliminate its chemical weapons.
We must furthermore pursue our efforts to bring to justice those who are responsible for the egregious crimes that have taken place in Syria since March 2011. The situation in Syria has to be referred to the International Criminal Court.
We must finally mobilize the financial resources to enable the UN and its partners to meet humanitarian and development needs and to alleviate the plight of the Syrian people as well as to address the increasing impact of the refugee crisis on neighbouring countries, especially Lebanon, Jordan, Turkey, Irak and Egypt.
During my visit to Jordan yesterday, I got a first-hand impression on the tremendous challenges faced by the host countries, where Syrians, mostly women and children, keep on arriving in huge numbers.
In 2012 and 2013, Luxembourg has provided funding for relief operations in Syria and neighbouring countries for a total amount of 7,6 million euro, through UN agencies, the Red Cross and Red Crescent Movement, various NGOs and the Syria Response Fund, plus an in-kind donation of medical equipment to Jordan. All the funds pledged by Luxembourg at last year's Conference here in Kuwait were disbursed within the first 3 months of the pledge, funds disbursed until the end of 2013 exceeded our pledge by more than 80%.
Luxembourg is committed to continue its support in 2014. Luxembourg herewith pledges cash contributions for a total amount of 5 million euro, to be disbursed rapidly. This represents a 66% increase as compared to last year's pledge. One third of this amount will be used to fund resilience-building measures both in Syria and in neighbouring countries.
The Luxembourg-funded mobile satellite-based telecommunication system, known under the name of emergency.lu, stands ready to be deployed upon request by the Emergency Telecommunications Cluster, in order to offer free of charge communication and coordination services to the humanitarian community.
I thank you for your attention.